Texas Tornado: Infant, toddler rescued from submerged truck (VIDEO)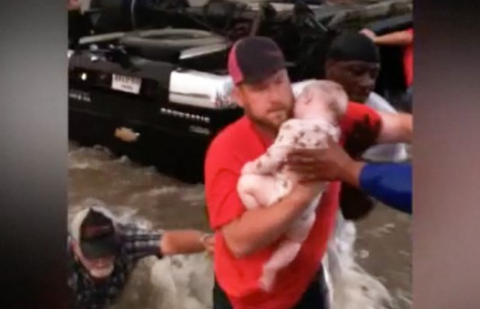 Go to this link to watch this incredible rescue. This is really hard to watch.
First things first: apparently everyone survived, and the baby and toddler are currently stabilized and recovering in the hospital, but that will not be super helpful to your stress level while/immediately after viewing. If you are currently the mother of young children, have a drink ready or your chosen method of self-care for when the video is done, because you will need it.  
On Saturday, tornadoes ripped through the countryside around Canton, Texas, and the weather causing floodwaters to quickly rise. Local man Tom Mitchel told WFAA that he felt compelled to try to help those impacted by the storms, so he got into his truck and started to drive. When he was near Myrtle Springs, he came upon a flipped and half-sumberged pickup, water rushing all around it. Inside was a father, infant, and toddler, trapped.
Good Samaritans frantically worked to free the baby and toddler, both strapped inside their car seats as Mitchell films the scene. Agonizing minutes pass before one man emerges from the truck holding a limp, gray infant. At this point in the video, remind yourself that the baby is going to live, because you are going to freak out. Maybe just go for that drink right away. You can have another when it's done. 
Everyone is out of the vehicle, but the baby and toddler are not breathing. At this point, Mitchell puts down his phone to initiate CPR as a woman prays over the unresponsive children. Finally, signs of life appear in the baby, and then the toddler. You might also want to take a breath when you get to this part because you will almost certainly have been holding your breath the whole time.