Man in 'Drunk Lives Matter' shirt arrested for DUI in Newville, Pennsylvania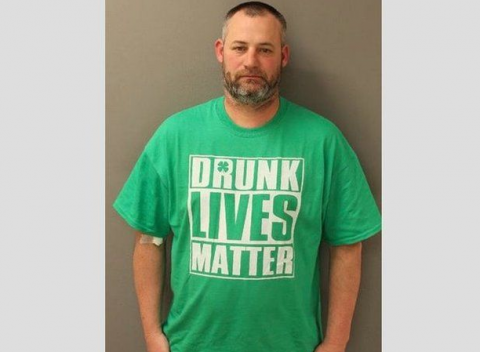 Earlier today, police in Newville, Pennsylvania posted to their Facebook page about this American hero: 44-year-old Elwood R. Gutshall III, who on March 19th was arrested for DUI after committing "several" traffic violations. While some people are content to showcase their character through actions alone, and some people worry about being too on-the-nose, Gutshall wasn't afraid to just be a straight-up jackass complete with visual aid by wearing a "Drunk Lives Matter" t-shirt at the time of the incident.
After police stopped him at 12:15 a.m. and determined his blood alcohol level was 0.217 percent, Gutshall was charged with the highest level of DUI, driving under suspension, and traffic violations.
Shout-out to whatever Newville Police employee made sure the irony was super prominent in his mugshot.